Ship Simulator Extremes Collection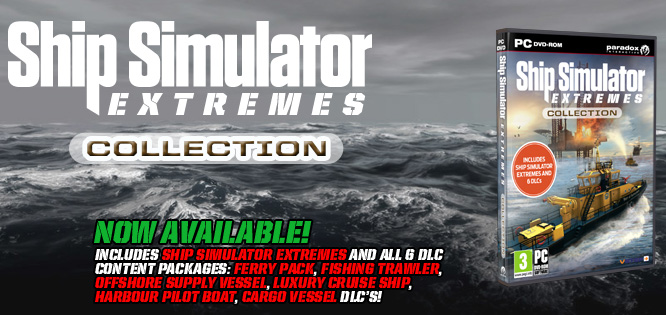 Release Date: OUT NOW! Platform: PC Type: Download Demo: DOWNLOAD
Watch the Ship Simulator Extremes Collection video

Ship Simulator Extremes Collection: The most complete Ship Simulator experience to date!

VSTEP and Paradox Interactive are proud to announce the upcoming release of its Ship Simulator Extremes Collection. The SSE Collection is the most complete Ship Simulator game to date and includes the acclaimed Ship Simulator Extremes game and ALL available add-on and DLC content in a single package. The SSE Collection features hundreds of hours of maritime seafaring realism as you captain an extensive range of vessels, all realistically simulated and recreated with stunning exterior and interior details.

The DLC add-ons include the Ferry Pack, which adds 5 popular ferry boats (including a spectacular fast ferry) each with their specific controls and options as you play your part in the daily commute of thousands of passengers in the many famous in-game harbors. Other DLC's give you control of the MS Oceana, a gigantic luxurious cruise vessel dwarfing even the majestic Titanic. Take the helm of this giant and face the challenges a real cruise captain faces. Take part in offshore supply missions with the Deniz Doga DLC, an incredible feat of marine engineering. The included DLC's add new player campaigns, gameplay and in-game missions to Ship Simulator Extremes. The Ship Simulator Extremes Collection gives you maximum access to everything ever released for this best-selling ship simulator, making this a must for every simulation fan!
Includes Ship Simulator Extremes and all 6 DLC content packages: Ferry Pack, Fishing Trawler, Offshore Supply Vessel, Luxury Cruise Ship, Harbour Pilot Boat, Cargo Vessel DLC's
The included DLC's add 10 new vessels to the game and increase the total amount of playable vessels to 40 ships, all realistically recreated and each with specific behaviour. From fast inflatable to massive cargo vessel, you name it, you sail it the way it was meant to be!
DLC's add new gameplay features, player campaigns and many hours of maritime gameplay fun, including exciting storylines and missions and famous locations and ports all over the world.
Includes realistic water and weather system. Sail calm waters or take on extreme storms on the open ocean.
Mission Editor updated with all new DLC vessels allowing you to create your own brand new missions to share online with your friends or the Ship Simulator Community.
Includes online multiplayer mode. Sail online with your friends and live some real maritime multiplayer adventures.
Warning: This game is NOT compatible with Mac OS or with Intel HD Graphics chipsets (Common laptop graphics cards).
System requirements
Operating system:
Windows XP (Min. service pack 2), Windows Vista or Windows 7.
32 and 64 bits OS supported
Memory:
2GB (Windows XP) or 3GB (Vista or Windows 7)
Processor:
3 Ghz P4 Intel or AMD equivalent processor
Video card:
Geforce 8800GT or ATI Radeon HD 4850 with 256MB ram (Shader model 3.0)
Hard disc space:
3.5GB
Drive:
4x PC DVD-ROM
Input controllers:
Mouse with scroll wheel
Sound:
DirectX 9.0c compatible
DirectX:
Version 9.0c
Controller:
Optional controller support DirectX 9.0c compatible
Internet:
Broadband Internet connection required for Multiplayer

Ship Simulator Extremes Collection
€ 29.99
Download version (1.67GB)
Includes Ship Simulator Extremes and all 6 DLC content packages
Includes the English, Dutch, German, French and Spanish language